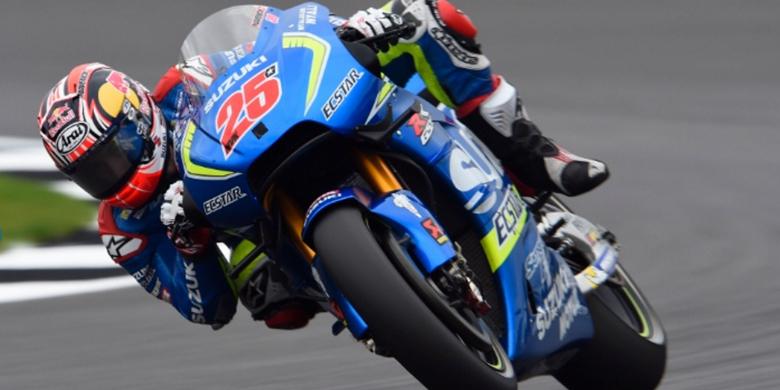 Silverstone, Pinnected.com – Catatan waktu tercepat Maverick Vinales (Suzuki Ecstar) ketika latihan bebas terulang lagi saat balapan di GP Inggris, sirkuit Silverstone, Minggu (4/9/2016). Pebalap yg bakal membela Yamaha musim depan ini finis terdepan dan mendapat gelar juara seri pertamanya sepanjang karir.
Selain itu,  kemenangan ini juga bersejarah buat Suzuki yg menunggu prestasi yg sama sejak 2007.
Vinales membalap luar biasa. Start pada balapan ini harus diulang setelah red flag atas insiden Pol Espargaro (Monster Yamaha Tech 3) dan Loris Bas (Avintia Racing). Vinales bertarung sengit dengan Cal Crutchlow (LCR Honda) dan Valentino Rossi (Yamaha Movistar) demi prestasinya ini.
???? @maverickmack25 feels the need… the need for speed!?

He WINS the #BritishGP! ??#TopGunMack https://t.co/5uLfUzfaFe

— MotoGP™ (@MotoGP) 4 September 2016
Lebih dari setengah balapan, Vinales memimpin balapan sendirian. Jarak antara dia dengan pebalap di posisi beberapa bahkan sempat mencapai 4,5 detik.
It doesn't get any better than this!????

It's a duel between #VR46 & #MM93 with #DP26 joining in the mix!#BritishGP pic.twitter.com/emSgaGJCZE

— MotoGP™ (@MotoGP) 4 September 2016
Setelah banyak drama sepanjang 19 lap, Crutchlow finis kedua sedangkan Rossi ketiga. Rossi mampu jadi beruntung mampu podium sebab pada beberapa putaran terakhir Marc Marquez (Repsol Honda) error melakukan kesalahan ketika mau mendahului Crutchlow di posisi dua.
It's happening too fast to keep up with!

Huge mistake from @marcmarquez93 leaves him behind #DP26 in 5th#BritishGP pic.twitter.com/FtqOFtJgaV

— MotoGP™ (@MotoGP) 4 September 2016
Seakan mengulangi kejadian di seri-seri sebelumnya, Marquez kelihatan sangat memaksa. Kali ini Marquez kena batunya karena harus merelakan podium ketiga dan finis di belakang Rossi.
Sebelum berusaha melewati Crutchlow, Marquez terlibat pertarungan dengan Rossi. Keduanya berkali-kali hampir bersentuhan mengingatkan kembali insiden di Sepang musim lalu. Adu kali ini dimenangkan Marquez yg lebih agresif, namun pebalap Spanyol itu sekali lagi menunjukan tak tahu kapan harus mereda.
Not the first time #TopGunMack has tasted the podium ????, but we bet that bottle tastes the best ????????#BritishGP https://t.co/zUAqrp1qxq

— MotoGP™ (@MotoGP) 4 September 2016
Walau tak angkat piala di GP Inggris, Marquez masih memimpin kelasemen juara dunia pebalap musim ini dengan 210 poin. Rossi menguntit semakin dekat karena sekarang jaraknya 5 poin dengan Marquez. Lorenzo di posisi ketiga atas 146 poin.
Hasil GP Inggris:
1. 25    25    Maverick VIÑALES    SPA    Team SUZUKI ECSTAR    Suzuki    172.1    39'03.559
2 . 20    35    Cal CRUTCHLOW    GBR    LCR Honda    Honda    171.9    +3.480
3. 16    46    Valentino ROSSI    ITA    Movistar Yamaha MotoGP    Yamaha    171.9    +4.063
4. 13    93    Marc MARQUEZ    SPA    Repsol Honda Team    Honda    171.7    +5.992
5. 11    26    Dani PEDROSA    SPA    Repsol Honda Team    Honda    171.7    +6.381
6. 10    4    Andrea DOVIZIOSO    ITA    Ducati Team    Ducati    171.3    +12.303
7. 9    41    Aleix ESPARGARO    SPA    Team SUZUKI ECSTAR    Suzuki    171.0    +16.672
8. 8    99    Jorge LORENZO    SPA    Movistar Yamaha MotoGP    Yamaha    170.7    +19.432
9. 7    9    Danilo PETRUCCI    ITA    OCTO Pramac Yakhnich    Ducati    170.3    +25.618
10. 6    19    Alvaro BAUTISTA    SPA    Aprilia Racing Team Gresini    Aprilia    169.8    +32.084
11. 5    68    Yonny HERNANDEZ    COL    Pull & Bear Aspar Team    Ducati    169.5    +36.131
12. 4    50    Eugene LAVERTY    IRL    Pull & Bear Aspar Team    Ducati    169.3    +39.130
13. 3    22    Alex LOWES    GBR    Monster Yamaha Tech 3    Yamaha    169.2    +40.143
14. 2    8    Hector BARBERA    SPA    Avintia Racing    Ducati    169.2    +41.356
15. 1    53    Tito RABAT    SPA    Estrella Galicia 0,0 Marc VDS    Honda    169.2    +41.943
16        43    Jack MILLER    AUS    Estrella Galicia 0,0 Marc VDS    Honda    168.7    +47.610
17        45    Scott REDDING    GBR    OCTO Pramac Yakhnich    Ducati    164.0    +1'56.177
Sumber: http://otomotif.kompas.com